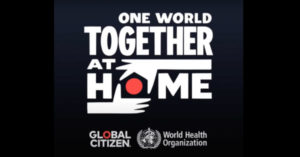 Saturday night's "One World: Together at Home" special will mark one of the few times in history that three top U.S. broadcast networks have joined together to air the same charity-focused entertainment special — and the first there've also been so many ancillary digital platforms on board, too, from Apple Music to Twitter to YouTube. The coronavirus-related cause looms large, of course.
But it's also not such a hard sell to bring huge blocks of cable networks and streaming services on board for a simulcast when the talent lineup includes Lady Gaga (who gets a "curated in collaboration with" credit), Taylor Swift, Paul McCartney, Lizzo, Billie Eilish, Elton John and dozens more.
Variety caught up again with Hugh Evans, the Australian-bred philanthropist who is the co-founder and CEO of Global Citizen, an organization that is campaigning in support of the WHO's efforts to combat COVID-19.
When we last spoke, it was about Global Citizen's daily music live-streams, which have produced moments both modest and newsworthy (as when Shawn Mendes and Camila Cabello turned up for their first extended joint performance on the spur of the moment — something fans are likely to get more of in Saturday's more formal telecast).
(It should be noted that our latest conversation with Evans took place before the president of the United States declared that he planned to pull future funding for the World Health Organization… something that may add an extra undercurring note of urgency to Saturday's obviously apolitical show in support of the WHO.)
A six-hour web pre-telecast show with dozens of artists will begin Saturday at 2 p.m. ET/11 a.m. PT before the two-hour special gets underway at 8 p.m. ET and PT (i.e., delayed for the west coast) on CBS, ABC, NBC and many, many other networks. For a full artist lineup and listing of the dozens of opportunities that exist to tune in, click here.
VARIETY: When the show goes out for those two hours of primetime, will everything be prerecorded or is there any live component happening in the moment?
It's going to be all prerecorded live, but we are going to record some of it that day, because we want to make sure that it covers the beats of what's happening in real time. Because, you know, 12 hours is a long time right now, and we need to make sure that we have the best data on how to fight COVID.
See the full interview here