By Creative Media Times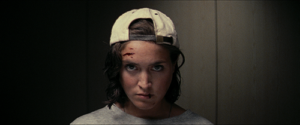 Screen Media has acquired all North American rights to Tilman Singer's psychotropic horror film "LUZ," the company announced today, with a planned first quarter of 2019 theatrical release across the US.
The announcement comes ahead of the film's US premiere at Fantastic Fest as part of it's opening night. "Luz" premiered at the Berlin Film Festival this year, and is set to screen at next month's Sitges Film Festival.
The film stars Luana Velis and Jan Bluthardt. Singer wrote and directed the film, as well as produced it with Dario Mendez Acosta.
"Luz" tells the story of a young cabdriver (Luana Velis) who drags herself into a run-down police station while being pursued by a woman (Julia Riedler) who is possessed by a demonic entity.
"Every so often there's a film that really unnerves, and just flat-out scares us. LUZ does exactly that. Tilman has made a beautiful but truly terrifying movie that people are going to be talking about for sure," Seth Needle from Screen Media commented.
"Now more than ever it is important for challenging and independent cinema to be given a platform and shown on the big screen. We're thrilled to have found the right partner in Screen Media, who fully understand Tilman's unique vision with LUZ and we look forward to the film being experienced – and inspiring audiences across North America," Justin Timms on behalf Yellow Veil Pictures continued.
The film has so far received praise from critics, with Variety's Dennis Harvey calling it "equal measures demonic-possession thriller, experiment in formalist rigor, and flummoxing narrative puzzle-box" while Hollywood Reporter's John DeFore describing the film as "a refreshing take on demonic possession in which the usual fright-flick cliches are nowhere to be found."
The film's Writer and director Singer said, "to see this kind of reaction to our film, visit festivals and now release it in North America is a little bit like shooting a movie itself; It's hard to fully grasp. Producing LUZ I had no idea where it would go and I am excited for the life that it will have."
Luz Teaser from Yellow Veil Pictures on Vimeo.