By Creative Media Times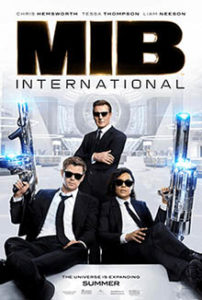 The dynamic duo of Chris Hemsworth and Tessa Thompson from "Thor: Ragnarok" are back, this time battling aliens in the first trailer for "Men in Black: International," the upcoming science fiction action comedy from director Gary Gray (The Fate of the Furious, Straight Outta Compton).
The fourth movie in the hugely popular film franchise, the film is features the pair playing Agents H and M and protect Earth from alien shenanigans. The film re-imagines the series which first launched in the 90s minus original agents Will Smith and Tommy Lee Jones.
There's a hilarious reference to Hemsworth's Thor character fans should notice here, one which show our hero throwing a small hammer to an alien.
Written by Art Marcum and Matt Holloway, the film also sees Liam Neeson as the head of the Men In Black's UK branch. Rebecca Ferguson, Emma Thompson, Rafe Spall, and Kumail Nanjiani also co-star.
Sony Pictures is set to release the film on June 14, 2019.