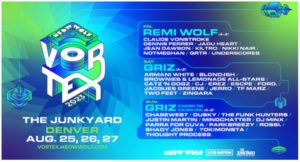 Enter the Vortex: Denver's portal to a multifaceted music festival where the dance floor is the quintessential immersive experience. Meow Wolf is once again partnering with Live Nation for its second year of the festival, taking place at The JunkYard, a one-of-a-kind venue in the heart of Denver. The offbeat arts and entertainment company will dramatically transform the space into a halcyon multi-stage dreamland.
Brimming with off-the-wall performers, chill zones, experiential art, and an eclectic curation of the hottest multigenre lineup of artists, this festival is guaranteed to be like every Meow Wolf exhibition: indescribable, and yet all the buzz. The event will include three consecutive afternoons and nights of music with more than 30 acts across two stages – all ages are welcome. After its first year in Denver, EDM.com called Vortex "a surrealist escape" and 303 Magazine called it "a living, breathing embodiment of Denver's artistic community."
"Denver – let's do this," said Marsi Gray, Senior Director of Events at Meow Wolf, "Come out to The JunkYard and play with us this year. Denver has such a vibrant community and we are excited to dance with you!"
"Since last year's Vortex wrapped up, we've been locked in with Meow Wolf to make year two in Denver nothing short of spectacular," adds Eric Pirritt, President of Live Nation Rockies. "Here we are, ready to launch. It's an exciting day for the city."

Headliners include GRiZ and Remi Wolf. Fans of GRiZ might remember when the internationally-known DJ and producer played the first ever show at Meow Wolf Denver's venue, The Perplexiplex, which sold out in minutes. This past Sunday, GRiZ announced a free pop-up show for his fans. With less than two hours notice, more than 5,000 fans flooded The JunkYard where it was announced that he is headlining Vortex 2023. Other notable acts include TOKiMONSTA, BLOND:ISH, Claude VonStroke, Armani White and Mindchatter. See the full lineup below.
"I'm beyond excited to be playing Vortex this year!" said TOKiMONSTA, who will be playing in the Sunday lineup. "I'll be coming through with a special set for a special festival."
Produced by a female-run team within the arts and entertainment B-Corp of Meow Wolf, alongside Live Nation, Vortex is dedicated to sparking joy and transformation as well as making a positive impact through hiring locally, supporting sustainability initiatives, and uplifting marginalized groups.
Single day tickets start at $59.50 per day and 3 Day Passes start at $219.50. There will also be an enhanced experience option available. Be on the lookout for a number of presales starting Thursday, April 20. The general onsale will begin Friday, April 21 at 10 AM MT at vortex.meowwolf.com.