By W.S.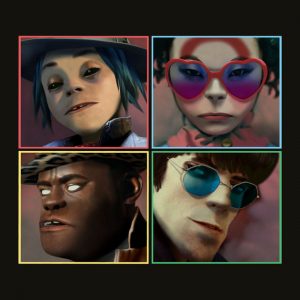 As announced on their Instagram, on April 28th, 2017, virtual band Gorillaz will be releasing their latest album, Humanz. Fans have long awaited the band's next release since their last album, The Fall in 2010.
Gorillaz uses the visual aspect just as much as the musical to convey their message. The virtual band consists of, 2-D, Murdoc Niccals, Russel Hobbs, and Noodle. These characters portray the story of the music . Fans of Gorillaz have deeply invested not only in the creators, but the fic-tional, animated characters who make up the band.
The band interacts with their audience and fans through these visuals of an animated band, and extends this relationship through their social media pages and website. It's this engagement with the fans that has helped Gorillaz gain popularity over the years. Behind the music and visuals are Damon Albarn, musician, and Jamie Hewlett, illustrator.
Over the years, fans have found Gorillaz's songs to be meaningful and symbolic. Their music has always provided its fans with a sort of commentary or message. This new album provides insight on the recent transition political events while still maintaining a proper distance from the subject matter. Fans will be able to relate to their overall messages in each song and that of the album's entirety no matter their interest level in politics.
In an interview with BBC Radio 1, Gorillaz's front man, Damon Albarn says that the album re-flects the fact that, "We are in transition. We are turning into something else."
One of the things that makes their music so original is that it's meant to make its listen-ers/viewers think and feel about what's going on in the world around them. This album is no ex-ception.
Notable tracks on Humanz are Saturnz Barz featuring Popcaan, We Got the Power featuring Jehnny Beth, and Ascension featuring Vince Staples, all released on March 23rd of this year. On April 6th, they released "Let Me Out" featuring Pusha T and Mavis Staples. Each of these tracks includes a guest musician that highlights the band's ability to combine and transcend gen-res.
Because Gorillaz breaks traditional genre rules, everyone will find something they can relate and connect to while simultaneously finding a blend of sounds they have never encountered before. No Gorillaz song is the same and, along with the visual aspect of their performance, this is what makes them so unique.