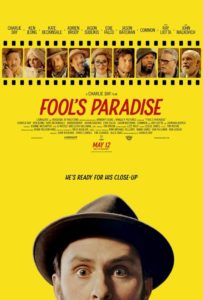 Written and directed by Charlie Day, the trailer gives audiences a glimpse of the star-studded film. Watch the film's new official trailer below, which just recently debuted.
According to the official synopsis, the film is a satirical comedy, about a down-on-his-luck publicist who discovers a recently released mental health patient who looks just like a misbehaving movie star. The publicist subs him into a film, creating a new star. But fame and fortune are not all they are cracked up to be.
Along with Day, the film also stars Ken Jeong, Ray Liotta, Kate Beckinsale, Adrien Brody, Common, Jason Sudeikis, Edie Falco, and John Malkovich.
Charlie Day is recently with the ensemble voice cast of the massive blockbuster hit "Super Mario Bros Movie".
Fool's Paradise is set for theatrical release on May 12, 2023 by Roadside Attractions.