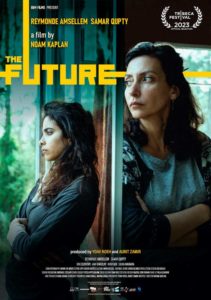 "The Future" is an official selection in the International Narrative Competition at the upcoming Tribeca Film Festival on June 7-18, 2023. Released the film's poster and trailer.
In the film, a world-renowned profiler is on a mission to study the motives of a young Palestinian woman who assassinated the Israeli Minister of Space and Tourism. From their intense encounter emerges a deep examination of female identity and motherhood.
Here's the film's official synopsis:
At 42, Dr. Bloch (Reymonde Amsellem), a profiler, wants a child. A future. Her only way is to find a surrogate mother. At the same time, her groundbreaking algorithm designed to identify individuals planning to carry out terror attacks fails and a young Palestinian woman (Samar Qupty) assassinates the Israeli minister of Space and Tourism. In order to 'fix the bugs' in her algorithm, Nurit faces the assassin in person. The sessions between these two brilliant women raise questions about their past, while the sessions between Bloch and the potential surrogate (Dar Zuzovsky) challenge Bloch's decision about her future.