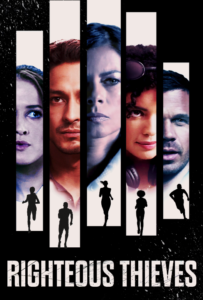 Lionsgate has revealed a first look official trailer for a thriller titled Righteous Thieves, featuring a crew of art thieves that are out to retrieve art masterpieces. A new poster for the film has also been released.
In this heist film, Annabel, a leader of a secret organization engaged in the recovery of priceless artwork, assembles a ragtag crew of art thieves to recover a Monet, Picasso, Degas, and Van Gogh stolen by Nazis during WWII and now in the possession of neo-Nazi billionaire oligarch Otto Huizen.
As the planned heist approaches, loyalties are tested when the crew learns the real reason behind Annabel's search for the long-lost paintings.
The film stars Lisa Vidal as Annabel (Grey's Anatomy), along with Cam Gigandet (Without Remorse), Jaina Lee Ortiz (ABC's Station 19), Carlos Miranda (The Bling Ring), Danube Hermosillo (The Bold and the Beautiful), Benjamin Schnau (The Current War) and Sasha Merci (De Lo Mio).
The film is set for release in theaters, On Digital and On Demand on March 10th, 2023.