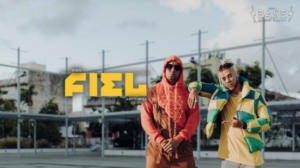 While the pandemic derailed touring plans, Walter Kolm, CEO of the artist management firm WK Entertainment—a roster highlighted by Carlos Vives, and cross-over sensation Maluma, Wisin, and CNCO, made a bold pandemic pivot that led to the launch of WK Records.
Today, his label celebrates "Fiel," the clingy reggaetón hit by Wisin, Jhay Cortez, and Los Legendarios, one of the most streamed Latin songs in the world. It's perched upon Spotify's Global Top 200 chart—the list's only Latin hit to crack the Top 10. It's certified platinum in the United States, Spain, Chile, and Mexico, plus made Gold in Colombia, rippling through Latin America in the #1 seat on Spotify and Apple. It's also the only song represented by a Latino-owned artist management firm and label to pierce the Top 10 frame of Spotify's Global Top 200 Chart.
"Fiel's" music video, which became the most-watched visual the day it premiered on YouTube, has over 60 million views. It's a viral sensation on TikTok with over 2 million uploads and more than 300 million views. Also, it's ranked Top 40 on Shazam's worldwide chart and #1 for the platform in Ecuador, Paraguay, Peru, Bolivia, Colombia, Chile, El Salvador, Venezuela, and Costa Rica.
The single was recorded in the mountains of Cayey, Puerto Rico, at Wisin's record label's studio, La Base Music, and was released via Walter Kolm's WK Records in February.

"The success of "Fiel" and WK Record's inaugural year with La Base Music has proven our commitment to showcasing Latin talents across mainstream branding and media opportunities, and we've only just begun," said CEO Walter Kolm.
His illustrious career spans over three decades. WK Entertainment is known for managing megawatt Latin artists' career trajectories and developing legacy portfolios.
WK Records has quickly stirred international streaming disruption and serves as a breeding ground of auspicious artists supported by Kolm's 360° strategy and complete advisory: Artists and repertoire (A&R), marketing, and commercial opportunities for shows, sponsorships, or concert tours.
"It's all about the music. Knowing that we created something that touched so many around the world is inspiring. I'm grateful to have had the support needed to deliver what we did",
said La Base Music Founder Wisin about debuting on Spotify's Global Top Ten Chart for the first time as a solo artist and the strength of his alliance with Walter Kolm.
WK Records' first signee, Alex Rose's smash hit, "Jangueo," and new single "Me Fijé," are also crushing playlists. The possibilities for artists under Kolm's indie label, distributed by The Orchard, are boundless, considering the success of acts steered under his management helm.
WK Entertainment was one of the first management firms to announce a major American musical tour with Maluma, who achieved a 14x multi-platinum plaque for his single "Hawái" and went 6x multi-platinum with its remix featuring The Weeknd, released last fall under Sony Latin Music.
"Time-tested success formulas back WK Entertainment. Our team is unafraid to evolve. We're aggressive," added Kolm, as he preps for another slate of releases, tours, and award shows.
Catch WK Entertainment and WK Records artists Carlos Vives, Maluma, Wisin, Emilia, and Seven Kayne, perform during the Latin American Music Awards, airing April 15 on Telemundo. Visit www.walterkolm.com and www.WKrecords.com for more information.