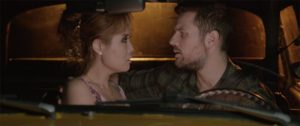 Following an acclaimed run on the independent film festival circuit, 501 Pictures and Public Displays of Affection, in a partnership with Epic Pictures and Dread, has announced the US release of D.C. Hamilton's Hitchcockian romance The Fare.
The sophomore feature from Hamilton stars Gino Anthony Pesi ("Shades of Blue") as a weary cab driver and Brinna Kelly as his enigmatic passenger, who charms him as her ride begins over and over and over again. Screenwriter and star Kelly reteams with Hamilton following their work on his directorial debut The Midnight Man. Pesi, Hamilton and Kelly produced alongside Kristin Starns.
An homage to "The Twilight Zone", The Fare has screened internationally and taken home numerous awards including the Special Mention Jury Award at Fantasporto, Best Dark Fantasy/Supernatural Film at the Miami International Science Fiction Film Festival, and the Director's Prize for Overall Concept and Execution at FilmQuest.
The Fare will be available nationwide November 19th on Blu-ray and Digital HD, including iTunes, Amazon Instant Video, Google Play, Vudu and more.
Ahead of the Blu-ray and VOD release, Epic Pictures will premiere The Fare for LA audiences on the big screen at the historic TCL Chinese Theatre in Hollywood on November 12th.
Here's the film's official synopsis:
When a charming woman named Penny climbs into his taxi, Harris finds himself entranced. That is, right up until she disappears from the back seat without a trace. As he desperately tries to make sense of what happened, he resets his meter and is instantly brought back to the moment she first climbed into his cab. He and Penny find themselves trapped in an endlessly looping ride that changes their lives forever.