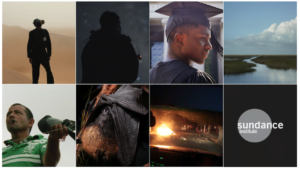 The nonprofit Sundance Institute and Sandbox Films today announced eight projects selected for the 2023 Sundance Institute | Sandbox Fund. The Fund offers grants and mentorship for independent artists seeking to explore the intrinsic link between science and culture through innovative storytelling.
The selected project teams receive nonrecoupable grants totaling $325,000 for their projects in the stages of development, production, and post-production. The filmmakers will also receive customized film support and join Sundance Institute's year-round artist community, with meaningful opportunities to connect with Sundance's network of alumni and creative advisors, as well as Sandbox Films' roster of renowned scientists.
The grantees' projects invite viewers to wonder at the natural world and consider the plights of scientists caught in complex webs of immigration, exile, diaspora, and geopolitics, and highlight, among other themes, the deconstruction of colonial legacies and the resurfacing of local and Indigenous knowledge and expertise, particularly related to local and regional ecology.
"We are thrilled to announce the latest cohort of Sundance | Sandbox grantees. This exciting new group of projects showcases an incredibly diverse tapestry of artistic approaches and daring creative visions that continue to redefine what a 'science film' can be. From India to the Caribbean, Madagascar to the Everglades, the people and stories spotlighted in these films shed light on the deeply collaborative nature of scientific practice and its crucial role in working toward a brighter future for humanity and its planet," said Paola Mottura, Director of the Sundance Institute's Documentary Film Fund.
"We continue to be blown away by the diversity of stories highlighting scientific inquiry that come through this grant program. It is an honor to work with the team at Sundance, and we look forward to supporting this talented group of artists as they bring these films to life," said Jessica Harrop, Head of Production and Development at Sandbox Film."

Prior projects supported with funding from the Sandbox Fund include recent Documentary Emmy® Award winner Wildcat (which was acquired by Amazon Studios), Oscar-nominated Fire of Love (which premiered at the 2022 Sundance Film Festival where it received the Jonathan Oppenheim Editing Award: U.S. Documentary), All Light, Everywhere (which won the 2021 Sundance Film Festival Special Jury Prize for Nonfiction Experimentation), Confessions of a Good Samaritan (which premiered at the 2023 SXSW Film Festival), Fathom (which premiered at the 2021 Tribeca Film Festival and was acquired by Apple),, Herbaria (which premiered at the 2022 Visions du Réel), and Users (which premiered at the 2021 Sundance Film Festival).
The latest grantees, presented by production stage, are:
DEVELOPMENT
Dreams of a Dark Sky (India)
Director: Anmol Tikoo
Producers: Mikaela Beardsley, Raghu Karnad
As Ladakh is flooded with light, local engineers in Hanle work with astronomers and nearby nomadic communities to create a new kind of sanctuary: for darkness and starlight. But the dark sky holds a different dream for each of them. What will they discover about themselves, others, and the cosmos as they embrace the dark?
Time Hunter(Germany, Namibia, U.S.A.)
Directors: Daniel Chein, Mark Mushiva Ya Mushiva
Producers: David Felix Sutcliffe, Daniel Chein
A revolutionary agent is dispatched to steal technology from his colonial oppressors to use against them. Can he help his people without losing himself in the maze of the diaspora?
Untitled Scientist Project (U.S.A.)
Director and Producer: Jiayan "Jenny" Shi
PRODUCTION
River of Grass (U.S.A.)
Director: Sasha Wortzel
Producers: Danielle Varga, Sasha Wortzel
River of Grass explores the entwinement of past colonial violences and present-day ecological urgency in the iconic and imperiled Florida Everglades, told through the prescient writings of the late environmentalist Marjory Stoneman Douglas, and those who today call the region home.
Todo Lo Sólido (All That Is Solid) (Cuba)
Directors: Luis Gutiérrez Arias, Zaina Bseiso
Producers: Zaina Bseiso, Luis Gutiérrez Arias, Joie Estrella Horwitz
Todo Lo Sólido (All That Is Solid) tells the story of an island sinking into the Caribbean Sea. As a nameless drifter searches for explanations about the island's destiny, reality and fantasy merge to reflect on the construction of a nation and the burden of progress.
Untitled Science Project (Brazil, U.S.A., Belgium)
Director: Emilia Mello
Producer: Elijah Stevens
A young chemistry student contemplates the nature of black holes.
With Their Backs to the Sky (Madagascar)
Director: Erik Nuding
Producers: Angelo Andrianiaina, Kendall Fitzgerald
Bridging bat disease ecology and conservation, this collaborative journey invites us into the tightly entangled lives of bat catchers, field biologists, and old-world fruit bats within the heavily exploited forest ecosystems of Madagascar. Joy persists in the face of storms that flood, mudslides that flatten, and fires that consume.
POST-PRODUCTION
Brief Tender Light (U.S.A.)
Director and Producer: Arthur Musah
At the elite MIT, a Ghanaian alum follows four African students striving to become agents of change for home: Nigeria, Rwanda, Tanzania, and Zimbabwe. Over an intimate, decade-long journey, all must refine their ideas about the world and themselves, and, ultimately, how to transform youthful ideals into action as adults.