By Armando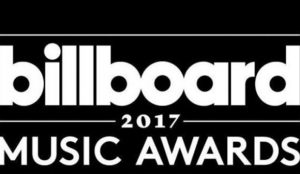 In case you haven't noticed, Drake is on a hot streak lately and breaking records in the process. Sunday night was no different for the artist at the T-Mobile Arena in Last Vegas, where Drake had a big night.
Drake won 13 awards, and breaking the record for most wins in a single show in the process, surpassing Adele's 12 wins in 2012. Before the night, Drake was the top nominee, along with The Chainsmokers, with 22 nods. The Canadian rapper was named Top Artist, beating Beyonce, Rihanna, Adele, Justin Bieber, Ariana Grande, the Weeknd, twenty one pilots, Shawn Mendes and the Chainsmokers.
"I got my whole family up here," Drake announced as he accepts his Top Artist win on stage with his large entourage, among them Nicky Minaj, Lil Wayne as well as his father.
Other big winners of the night include Beyoncé who won five trophies of her own including Top Female Artist, Twenty One Pilots also winning five including Top Duo/Group, followed by The Chainsmokers won in four categories including Top Hot 100 Song. English singer-songwriter Zayn was Top New Artist, while Korean boy band BTS won the Top Social Artist award.
Some of the night's standout performances include Nicki Minaj who opened the show and Miley Cyrus who performed her new single "Malibu." The Chainsmokers also performed their new single "Young", Celine Dion with her iconic "My Heart Will Go On," and Lorde with her latest "Greenlight." Florida Georgia Line also performed with John Legend for an amazing "Surefire" and "H.O.L.Y." mashup, while country music star Sam Hunt performed his hit "Body Like a Back Road."
Cher was also on-stage to perform her 1999's global hit "Believe," and "If I Could Turn Back Time." After her performance, Cher received the Icon Award which was presented by Gwen Stefani,
Pre-recorded via satellite was Ed Sheeran, who is currently on tour in Santiago, Chile, as well as Bruno Mars who performed from Amsterdam.
Imagine Dragon performed their new song, "Believer," then frontmant Dan Reynolds took the stage once again to deliver a touching tribute in memory of Chris Cornell who died at age of 52 last week.
Ludacris hosted the night for a second year in a row, together with co-host Vanessa Hudgens.
For a full list of winners, go to Billboard.com
Outside the T-Mobile Arena was just as fun as the world's biggest stars in music stunned the magenta carpet with both whimsical and classic ensembles. Among them were Nicole Scherzinger, Kate Bekinsale, Olivia Munn, Ty Dolla Sign, Laura Marano, and John Legend.
Red Carpet Photo Arrivals (AIPhotoImaging.com)