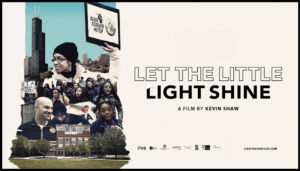 The documentary feature from director Kevin Shaw is set to have US theatrical release in August and September
The film is directed and Produced by Kevin Shaw, from producer by Rachel Dickson and executive producers Steve James Sally Jo Fifer Erika Dilday Chris White Leslie Fields Cruz.
The documentary is set to open on August 12 in Chicago at Siskel Film Center, August 26 in New York IFC Center, nad on September 9 in Los Angeles, Laemmle Monica.
Here's the film's official storyline:
When a thriving, top-ranked African American elementary school is threatened to be replaced by a new high school favoring the community's wealthier residents, parents, students and educators fight for the elementary school's survival.
LET THE LITTLE LIGHT SHINE Trailer from Kevin Shaw on Vimeo.
"I made this film to understand why there was a movement in a booming Chicago neighborhood to close a high-performing, top-ranked elementary school that serviced a majority Black student population and transform that institution into a high school, potentially causing more harm than good to neighborhood families. "If it ain't broke, don't fix it," the adage goes. Race, obviously and unfortunately, figured into the equation, but there were other factors at play – class, which is intertwined with race, gentrification, power, privilege, and politics all had a hand in creating discord amongst a community that wanted the same thing — the best possible education for their children. The ways to achieve that goal was different for each set of residents, reminding us of harsh inequities and bias existing in our country. This story is not unique to Chicago; it is reflective of our American experience, one where Black and Brown communities still must fight for not only a seat at the table, but in this instance, an equitable place to learn."