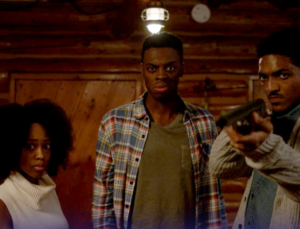 Dark Sky Films today announced it has acquired all U.S. distribution rights to BLOOD CONSCIOUS, the acclaimed new horror thriller from rising director Timothy Covell. The film, about a family discovering that their vacation getaway is the scene of mass murder, will be released in late summer in theaters and on VOD platforms.
The distribution agreement was negotiated on behalf of Dark Sky Films by Greg Newman and Giles Edwards, and by the film's producer, Christina Behnke for Ben Cove Entertainment. The film will have its North American premiere at April's Panic Fest in Kansas City.
A shocking tale reflecting racial and social tensions of our time, BLOOD CONSCIOUS centers on vacationers who turn the tables on a unhinged killer who claims to be fighting demonic forces. Kevin (Oghenero Gbaje, Beyonce's Black Is King), his older sister, Brittney (DeShawn White, Motherless Brooklyn, The Deuce), and her fiancé, Tony (Lenny Thomas, Tyler Perry's Ruthless), set off to their parents' lakeside cottage expecting a leisurely weekend getaway. But their holiday turns into a trip from hell as they enter a scene of mass murder, where their parents and neighbors all lie dead.
Terror strikes when the armed killer (Nick Damici, Hap and Leonard) confronts them, claiming to be fighting demonic forces that have possessed them all. They pin him down and lock him up in the cellar, but soon he claims to not to be alone down there. As unexpected and traumatic events keep unfolding, Kevin, Brittney and Tony have to find a way to survive the night without turning on each other – or becoming possessed.
Writer-director Timothy Covell says: "I conceived BLOOD CONSCIOUS as a film that takes place the day after a slasher film. But instead of opening on the lone survivor of a campground massacre, we focus on the family who finds him, setting in motion a chain of paranoia that leads to even more bloodshed over the course of the ensuing night." He adds, "Although it would be inaccurate to say BLOOD CONSCIOUS is about race, racism is very much present throughout the film."
MPI's Giles Edwards said, "Timothy Covell emerges as a major talent and we're excited to be in business with him."