By Elizabeth Walker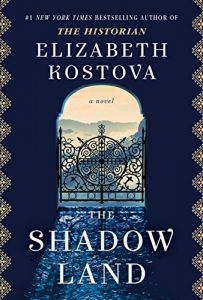 If you don't know a lot about the history of post-war Eastern Europe, prepare to be drawn in. Elizabeth Kostova's newest novel is set in Bulgaria, both in the forties/fifties and new millennium. The Shadow Land tells two stories in parallel – one about a violinist named Stoyan Lazarov, another about a recent college graduate – and interweaves them in a masterful tale of grief, mystery, and adventure.
Alexandra is in her early twenties and has lived the past decade in the shadow of her brother's untimely death. In attempt to both escape Jack's memory and yet also become closer to it, she chooses to teach English in Bulgaria. On her first day in this foreign land, she crosses paths with a family en route to bury the ashes of Stoyan Lazarov. When Alexandra mistakenly picks up the ashes, she becomes a player in Stoyan's fascinating story. She makes friends with Bobby, a philosopher poet, and together they travel across the country trying to unravel the intricacies of Stoyan Lazarov's life and return the ashes to the family.
Most readers will be familiar with the horrific stories of Hitler's concentration camps, but many remain oblivious to the violence inflicted on political prisoners under other administrations. The Shadow Land gives gruesome depictions of the pain and disease these people experience often based only on trumped-up charges. The fact that these atrocities are experienced by a gifted musician only serve to make them more ghastly.
The Shadow Land does drag at times. The way Kostova describes Alexandra's grief does not seem wholly believable, and it is easy to be exhausted by the cyclic, repetitive nature of Alexandra and Bobby's search for the Lazarov family. Essentially they spend hundreds of pages going to a place, not finding the Lazarovs, and going somewhere else.
That said, Kostova has obviously painstakingly researched her setting and has woven an intricate mystery comparable to her debut novel, The Historian. This makes the reader want to stick with The Shadow Land, despite its length, less to find out what happens to Alexandra than to the gifted musician and the family who want to offer him eternal peace.