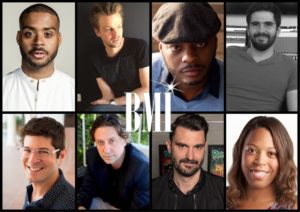 Award-Winning Composer Lucas Richman Will Lead the Workshop
BMI (Broadcast Music, Inc.) announced today the selected participants for its 22nd annual Conducting Workshop for Visual Media Composers, led by BMI Classic Contribution Award winner, conductor and composer Lucas Richman.
Beginning August 13, the elite group will spend two weeks sharpening their conducting skills to music selections by BMI film composing legends such as Jerry Goldsmith and John Williams.
The workshop will be held at BMI's Los Angeles office and Blake Neely's Cow on the Wall Studio in North Hollywood culminating with the participants leading a 32-piece orchestra live to picture at Nathan Barr's Bandrika studio in Tarzana on August 24.
"The Conducting Workshop was established to enhance the skills of BMI composers during the music-making process, both in the recording studio and live concerts, under Richman's exceptional direction," said Doreen Ringer-Ross, BMI Vice President Creative-Film, TV & Visual Media. "This workshop is just one of the many ways we provide composers with the tools they need to advance in the scoring community."
This year's group of composers includes Kris Bowers (Green Book), Ryan Elder (Rick and Morty), Sage Lewis (Operator), Jason Nesmith (The Ellen DeGeneres Show), Adam Schoenberg (Graceland), Kevin Smithers (Monster Island), Jongnic "JB" Bontemps (United Skates) and Dara Taylor (Colewell).
Lucas Richman has carefully curated BMI's Conducting Workshop for more than two decades and has helped hone the conducting skills of numerous award-winning BMI composers. Richman is a leading expert in conducting, having fashioned an outstanding career as a conductor with numerous orchestras in the U.S. such as the Bangor Symphony Orchestra and the Knoxville Symphony Orchestra. He has also proved himself an invaluable collaborator for many film composers, serving as conductor of the Academy Award-nominated titles such as The Village, As Good As It Gets, Face/Off, Seven, Breakdown, Anastasia, The Manchurian Candidate and Kit Kittredge: An American Girl.
Past participants of the annual workshop have included top Hollywood composer Nathan Barr (True Blood, The Americans), Jeff Beal (House of Cards, Blackfish), Laura Karpman (Underground, The Living Edens), Rolfe Kent (Sideways, Up in the Air), Christopher Lennertz (Ride Along, Supernatural), Cliff Martinez (Traffic, Contagion), Lolita Ritmanis (Batman Beyond, Teen Titans) and Fil Eisler (Empire) to name a few.