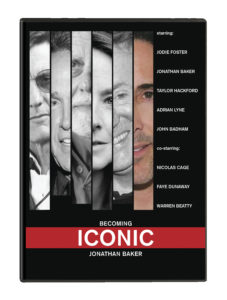 Indie film leader Random Media proudly announces the highly-anticipated Digital HD, DVD and VOD debut of filmmaker Jonathan Baker's fascinating Hollywood documentary, BECOMING ICONIC: JONATHAN BAKER, beginning December 4, 2018.
Featuring some of the industry's most iconic directors, including Jodie Foster, Taylor Hackford, Adrian Lyne, Nicolas Cage, John Badham and Warren Beatty, the one-of-a-kind film explores the process of directing a big-budget feature, from the ground up, through the eyes of top directors as they tell their own stories.
A must-see for movie lovers and anyone who has ever dreamed helming a big-budget, Hollywood feature, BECOMING ICONIC: JONATHAN BAKER was created in tandem with Baker's preparation for and production of his own directorial debut of INCONCEIVABLE, starring Nicolas Cage, Gina Gershon and Faye Dunaway. The documentary is directed by Neal Thibedeau.
Including fascinating, candid stories on topics ranging from the pressures of financing and working with top talent, to the ultimate challenge of making sure to stay true to the film's vision, the documentary chronicles the inspirational "first time" stories of these celebrated directors, combined with the very personal story of Baker's dream of making it big in Hollywood.
Becoming Iconic Official Trailer from Random Media on Vimeo.