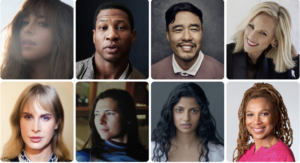 Today the nonprofit Sundance Institute announced the lineup for the 2023 Sundance Film Festival Beyond Film conversations, all of which are open to the public. Made up of three series called Power of Story, Cinema Café, and The Big Conversation,
Beyond Film rounds out the Festival experience, providing a place for the community to engage through artist conversations, filmmaker panels, and audience discourse.
Beyond Film will take place in-person from January 19–23, 2023, with the Beyond Film offerings becoming available to audiences across the country on the online Festival Platform starting January 24, 2023. The Festival also shared details about additional free conversations and events from Sundance Collab and our Festival partners available in person and online.
Beyond Film speakers will include talent from Festival films, such as Barry Jenkins (Producer, All Dirt Roads Taste of Salt), Dakota Johnson (Actress, Producer), Jonathan Majors (Magazine Dreams), Randall Park (Shortcomings), Ruth Reichl (Food and Country), and Adrian Tomine (Shortcomings), as well as compelling speakers including Dr. Orna Guralnik (clinical psychologist, psychoanalyst, Couples Therapy), Marlee Matlin (actor, CODA), and Lisa Taddeo (author, Ghost Lover).

"We gather in Utah and online during the Festival to watch stories unfold. From feature films to shorts to Indie Episodic projects, Sundance is known for what audiences can see, but just as crucial to the experience is what we all talk about," said Ania Trzebiatowska, Beyond Film Program Curator. "The Beyond Film offerings encourage community. These talks allow Festivalgoers the opportunity to engage in a deeper way with the cultural ideas that they've seen on screen with artists, activists, and thinkers that are also exploring them."
For admission to a Big Conversation or Cinema Café event, Festivalgoers will need to present their Festival badge or Festival ID (digital QR code) at the door. You can access your Festival ID by logging in to your free Festival account and going to "My Schedule." (Important: Festival tickets and Festival IDs serve different functions. Both can be retrieved as QR codes using the mobile app.) Note: "Power of Story" will require a digital ticket for entry. Beyond Film events are available on a first-come, first-served basis. Read more about Digital Tickets and QR Codes here, and click here for details on how to access Beyond Film offerings online after January 24.
In addition to the Sundance programming, Festival partners will have conversations (in-person and online) running January 19–24, 2023. Go to Sundance website to explore the program.