By Creative Media Times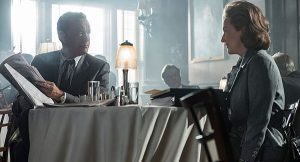 Awards season is in full swing as the National Board of Review provided its own take on the awards race, giving Steven Spielberg's The Post its best picture accolade and its stars Tom Hanks and Meryl Streep the top acting honors, winning best actor and actress respectively.
Based on the story about Washington Post's coverage of the Pentagon Papers, The Post has been on awards season radar based purely on pedigree of talents involved, the substance of the film and Spielberg's passion to fast-track production.
Get Out meanwhile, continued its winning streak, earning best directorial debut for Jordan Peele, best cast ensemble, and a spot in NBR's top 10 movies. Get Out is clearly having a great week: just a day earlier, the film won three Gotham Awards including best screenplay and the audience award.
Other notable NBR winners include Call Me by Your Name's Timothée Chalamet, who won the breakthrough performance award, the same honor the young actor collected the night prior at the Gothams, and Lady Bird which won 2 awards for director Greta Gerwig and its supporting actress Laurie Metcalf. The Spotlight Award went to Wonder Woman director Patty Jenkins and the film's lead Gal Gadot.
The National Board Of Review awards will be held at a gala dinner in New York City on January 9 and will be emceed by Willie Geist.
Here is a portion of NBR winners:
Best film: The Post
Best director: Greta Gerwig, Lady Bird
Best actor: Tom Hanks, The Post
Best actress: Meryl Streep, The Post
Best supporting actor: Willem Dafoe, The Florida Project
Best supporting actress: Laurie Metcalf, Lady Bird
To see the full list, go to nationalboardofreview.org
These are NBR's Top Ten Films of 2017 (in alphabetical order): BABY DRIVER, CALL ME BY YOUR NAME, THE DISASTER ARTIST, DOWNSIZING, DUNKIRK, THE FLORIDA PROJECT, GET OUT, LADY BIRD, LOGAN, PHANTOM THREAD #NBRawards #NBRTop10

— NBR (@NBRfilm) November 28, 2017