Eric Gasa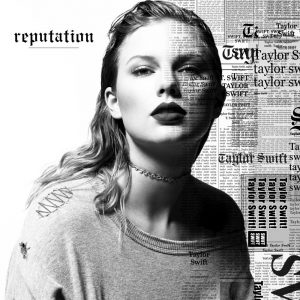 Taylor Swift's newest single "Look What You Made Me Do" is dizzying pop art at its pettiest and finest. It's not necessarily the beat or hooks that make "Look What You Made Me Do" such a notable piece of pop savvy, but the vengeful lyrics and symbolic music video visuals. It's one thing for pop stars to call out the haters; it's another for them to wear the insults like a diamond necklace instead of a crown of thorns. Swift does all of this and more on "Look What You Made Me Do" even if it's just a lazy pop beat with a settle to score.
Like any sucker punch, there is a lot to unpack here. "I don't like your little games/Don't like your tilted stage/The role you made me play," sings Swift. The stage is a reference to Kanye West's elaborate Saint Pablo tour, as well as the infamous beef they've had since West stole the mic from Taylor during the 2009 VMAs. Swift also takes shots at her past friendships with Katy Perry and the HAIM sisters.
Instrumentally, the song is a dark trance number that contrasts to the upbeat, wholesome melodies of 2015's 1989. Where 1989 was a free-spirited power pop romp, "Look What You Made Me Do" is toxic, extra, and snide in nature.
Things go from melodramatic to cheesy when Swift answers a telephone and replies, "I'm sorry, the old Taylor can't come to the phone right now…Why? Oh, 'cause she's dead!"
Swift sees herself as the hero going against the odds in a treacherous story. She sits on a throne covered in snakes, while the pillars leading up to her perch read, "Et Tu, Brute"; a quote from Shakespeare's Julius Caesar, symbolizing Caesar's surprise when he is stabbed to death by his friends. Go figure.
Swift also wears a ridiculous Zoolander-inspired fur outfit and stands over a panicking dogpile of her clones, kicking and screaming for the seat at the top. It's a goofy sight of multiple personalities; there's Black Swan Taylor, hissing snake Taylor, fake country Taylor, and of course, zombie Taylor. Can't forget about her. Each one representing moments and emotions of Swift's psyche. The pop star pokes fun at herself but the imagery couldn't be more obvious and on the nose.
On her latest album Reputation, due to release November 10, Swift plans on changing exactly that about herself. Even if it means scrawling the word in pink spray paint on the side of a private she just chain-sawed in half. In 2017, Taylor Swift couldn't be more hate-able and she couldn't be prouder of it.