By Cameron Pridmore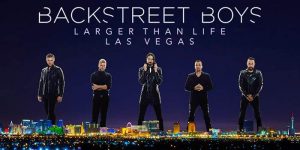 Rumor has it that the Backstreet Boys have been in Talks with the Spice Girls to head a reunion tour together in mid 2018. Nick Carter fueled the rumors in a recent interview with US Weekly, saying that he has had conversations with his Boy Band co-host Emma Bunton. The reunion tour would be something of epic proportions, as the Backstreet Boys and the Spice Girls were two of the most popular artists of a generation.
The Backstreet Boys are currently on their Larger Then Life Las Vegas residency tour, and with the addition of Kevin Richardson again, the Backstreet Boys are more popular then ever. With their ability to remain current, it would seem like a no brainier for the group to unite with the spice girls for a reunion tour. The Spice Girls were last seen at the Olympics in 2012, where they put on quite the memorable reunion show.
Nick Carter has been working along side Emma Bunton for the last year on Boy Band, and the chemistry can be seen throughout the show. Nick had expressed interest in doing a reunion show with N-Sync, sadly all of the the members are working on different projects and Justin Timberlake has not expressed any interest in doing a reunion show at this time.

Nick Carter who recently became a father for the first time, has been enjoying life in Las Vegas doing the Larger Then Life shows. With all of the recent changes in his life, and the popularity of Boy Band, he is especially open to doing a reunion show. He has been in talks with Scary Spice and Bunton, and they are both very receptive to the idea of the reunion show.
What would really be excited would be throwing 98 degrees in the mix, but this is unlikely to happen. From a music lovers prospective any combination of the two nineties mega groups would be wonderful, but a tour would be the icing on the cake. So many of the recent reunion tours have been successes, and there are still millions of Backstreet Boys and Spice Girls fans around. I was really impressed when 98 degrees came back onto the scene, so I can only imagine what the combination of these two power house groups will be.
The next coming months will shed more light on this possible reunion of epic proportions, as the Backstreet Boys wrap up their Las Vegas tour in February 2018, there will be ample time for them to plan with the Spice Girls. Obviously we won't see this reunion happen over night, but if the thought is floating around, there is a huge possibility that these talks will become a reality.