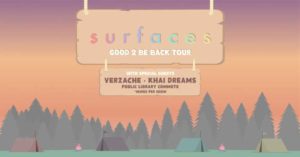 Surfaces is a Texas-based duo comprised of Forrest Frank and Colin Padalecki. The band formed in 2017, with Forrest manning vocals and production, and Colin handling writing and arrangements, they released their debut album later that year titled Surf. Within a year of partnering, Surfaces' music began to take off, connecting with fans around the world who found something special in the band's blend of buoyant production and "no shirt, no shoes, no problem" energy. The enthusiastic response led to two more self-made albums, Where the Light Is (2019) and Horizons (2020), and launched them into global stardom.
The band soared to new heights in 2020 with their global smash hit "Sunday Best" – the double-platinum-certified single peaked at #9 at Top 40 Pop radio, #19 on the Billboard Hot 100, and surpassed 2 billion global streams. The song led to performances on The Tonight Show with Jimmy Fallon, Late Night with Seth Meyers, The Late Late Show with James Corden, and The TODAY Show. 2020 also saw the duo collaborate with one of their idols, Sir Elton John on the anthemic single "Learn to Fly."
Following their breakout year, the group headed to Malibu to work on new music, where they were inspired by the ethereal feeling the Pacific coast gave them, resulting in their captivating new single "Wave of You." The song gives fans the first taste of what's to come from the rising hit-makers.
With Special Guests Verzache, khai dreams, and Public Library Commute, tickets go on sale Friday, June 11 at 10am Local On LiveNation.com