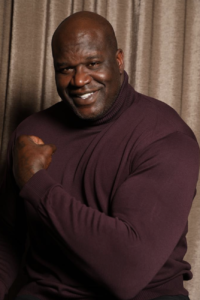 NBA Superstar and movie producer Shaquille O'Neal announced today he is hosting continuous screenings of an Oscar® nominated film at the Capri Theatre in Jackson, MS in honor of the birthday of the late Lusia "Lucy" Harris aka The Queen of Basketball born on February 10, 1955, in nearby Greenwood, MS. [Press Photos]
Ms. Harris is the subject of the Academy Award® nominated short subject documentary THE QUEEN OF BASKETBALL directed by two-time Academy Award® nominee Ben Proudfoot. Ms. Harris passed away on January 18, 2022, just three weeks prior to the Oscar® announcement. The film was produced in Ms. Harris' hometown of Greenwood, Mississippi.
Executive Producer O'Neal states: "Today would have been Lucy's 67th birthday; so, In her honor, I'm bringing the THE QUEEN OF BASKETBALL to the big screen for everyone in Mississippi. In honor of her life achievements and to celebrate her story's Oscar® nomination, I'm encouraging parents to take their children, coaches to take their teams and black families with little black girls to experience Lucy's story."
The screenings at Jackson's historic Capri Theatre, recently lovingly restored, will take place today – Thursday, February 10 starting at 11:00 AM and will run continuously with the last screening beginning at 4:15 PM.
THE QUEEN OF BASKETBALL is the story of Lusia "Lucy" Harris — a pioneering athlete who became a basketball phenomenon in the 1970s, making history as the first woman to score a basket in the Olympics and was one of the first two women inducted into the Naismith Memorial Basketball Hall of Fame.
As a child of sharecroppers growing up in rural Mississippi, Lucy often stayed up past her bedtime watching her favorite N.B.A. players, dreaming of one day playing on the same courts. Reaching 6 feet 3 inches by the time she was in high school, Lucy was often called "long and tall and that's all" by her classmates — but she knew her height would be an asset on the court. And she wasn't just tall enough to play the game. She was a rare talent who would go on to be a three-time national college champion and an Olympic silver medalist, making her a national sensation by the time she finished her college career.
For an electrifying young basketball player on the national stage, success often comes with a lucrative professional contract and brand deals — but Lucy's moment came in the 1970s, decades before the W.N.B.A. was founded, when few opportunities were available to female athletes interested in pursuing a professional career. In the film, which is now a New York Times Op-Doc film, Lucy tells the story in her own words of what happens when an unstoppable talent runs out of games to win.