By Creative Media Times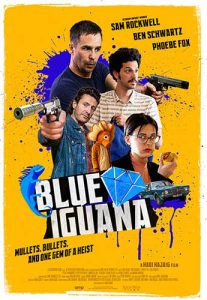 Sam Rockwell is back in action/comedy turf with "Blue Iguana," a new comedy heist from Screen Media.
This time, he is teaming up with Parks and Recreation's Ben Schwartz, and together they play former convicts hired by a laywer (Phoebe Fox of The Woman in Black: Angel of Death) to steal a rare jewel in London, where things go terribly wrong.
The film is Rockwell's latest following his Oscar winning performance in "Three Billboards Outside Ebbing, Missouri" from earlier this year. He also recently appeared in the biopic "Woman Walks Ahead" opposite Jessica Chastain.
Written and directed by British filmmaker Hadi Hajaig, the film co-stars Phoebe Fox, Simon Callow, Amanda Donohoe and Frances Barber.
Blue Iguana is set for release in theaters and On Demand on August 24 through Screen Media Films.
Here's the film's synopsis:
Small time crooks Eddie and Paul are in over their heads when a cute London lawyer hires them to steal a rare jewel. Meanwhile, a mullet-haired gangster wants the gem for himself. Bullets and sparks fly in this pond-hopping comedic caper.