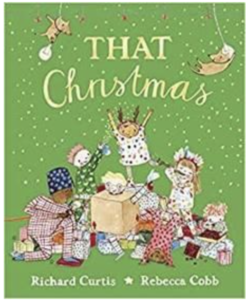 Locksmith Animation, the leading CG animation studio based in London, has awarded the digital production of its second movie That Christmas to DNEG Animation.
The film is based on the successful series of children's books by filmmaker Richard Curtis (Four Weddings and a Funeral, Love Actually, Yesterday) and marks the feature film directorial debut of renowned character animation and story artist veteran Simon Otto (How to Train Your Dragon trilogy).
Locksmith and DNEG Animation enjoyed a successful outing on Locksmith's first film Ron's Gone Wrong. The film garnered multiple Annie Award nominations and was voted "Best Feature" at the 2022 British Animation Awards.

Locksmith has also set an impressive lineup of producers and creatives for the film. Former Netflix and Disney veteran Nicole P. Hearon (Moana, Frozen) and Adam Tandy (The Thick of It, Detectorists) are producers. Locksmith's CTO/SVP of Digital Production Doug Ikeler (Arthur Christmas, Open Season) is tapped as VFX Supervisor; Ashley Boddy (Ron's Gone Wrong, A Shaun the Sheep Movie: Farmageddon) is Head of Story, and Sim Evan-Jones (The Chronicles of Narnia, Shrek) is Editor. Justin Hutchinson-Chatburn (His Dark Materials, Black Mirror) is Production Designer; Dave Edwardz (Star Wars IX: The Rise of Skywalker, Mary Poppins Returns) is Head of Layout, and Kapil Sharma (Ron's Gone Wrong, Trolls) is Animation Director.
"We are happy to continue our collaboration with Oscar®-winning DNEG, said Locksmith CEO Natalie Fischer. "DNEG Animation's contribution to Ron's Gone Wrong was integral to the film's appeal to audiences and we look forward to this new chapter."
"We are thrilled to be working with Locksmith again for their second project, following the success of Ron's Gone Wrong," said Tom Jacomb, President of DNEG Animation. "I've been a huge fan of Simon Otto and all his work on the How To Train Your Dragon series, so I'm very excited to now be working with him in the director's chair!"
LSA Co-Founder and President of Production Julie Lockhart said "It is a privilege to work with such a stellar team of animation veterans on our second movie alongside Simon Otto and Richard Curtis. By corralling their collective expertise, we are dedicated to creating a holiday film that families will enjoy for years to come."
Otto and his team are currently in production on That Christmas in London. Curtis is writing the screenplay with Peter Souter. Executive producers include Elisabeth Murdoch, Sarah Smith, Julie Lockhart, Bonnie Arnold, Richard Curtis, Peter Souter, Colin Hopkins and the books' illustrator Rebecca Cobb. This marks the first animated feature project for Curtis, whose hit films, which include Yesterday, Love Actually, Four Weddings and a Funeral, Notting Hill, and About Time, have amassed a worldwide box office of over $2.5bn.
The three Richard Curtis books in the series (published by Puffin) – The Empty Stocking, Snow Day and That Christmas – tell charming family stories taking place in the run-up to Christmas in a small English beach town.