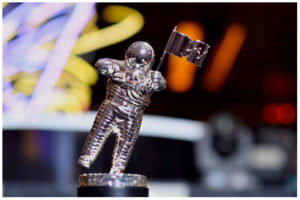 It's happening! The 2020 MTV Video Music Awards are a go. Gov. Andrew Cuomo of New York made the announcement during his Monday (June 29) press briefing, telling viewers that the annual ceremony would be held in Brooklyn.
As the governor announced that New York City would be entering Phase III of reopening on July 6, he shared the unexpected news. "The Video Music Awards are going to be held Sunday, Aug. 30, at Barclays Center," he said.
The slide displayed at the time also noted that "the event will follow all safety guidance, including limited or no audience."

"We're elated to bring the 2020 'VMAs' back to NYC, the cultural mecca of the world where music and entertainment are woven into the DNA," said Bruce Gillmer, President of Music, Music Talent, Programming & Events for ViacomCBS Media Networks, in press release.
"The 2020 MTV VMAs will be the first Barclays Center event since the COVID-19 pandemic reached New York," added Oliver Weisberg, the CEO of Barclays Center and the Brooklyn Nets. This will be the VMAs second time at the Barclays Center; the venue previously hosted the event in 2013.