By Creative Media Times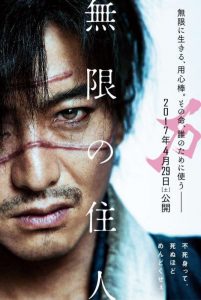 Takashi Miike's latest film "Blade Of The Immortal" gets a red band treatment, fitting for its bloody content and its not for the squeamish. See trailer below.
For those unaware, keep in mind before watching the trailer that the legendary Japanese director is never one to shy away from blood and extreme violence that is stylistically a major part of his film's themes which defined his career, and this trailer proves just that.
Based on the eponymous manga series by Hiroaki Samura, Blade of the Immortal is Miike's 100th film. The film is set to premiere at Fantastic Fest in Austin, Texas this month of September, and then later nationwide on November 3, 2017.
Here's the synopsis for the film:
"Samurai Manji has taken a lot of lives, both innocent and guilty, and now lives life in feudal Japan as a criminal. After being cursed with immortality until he kills enough evil men, Manji meets a young girl who enlists him to be her body-guard. Swearing loyalty, protection and vengeance against the group of sword fighters who slaughtered her family, the unlikely duo set on a remarkable quest to make right against those who did them wrong."