By Creative Media Times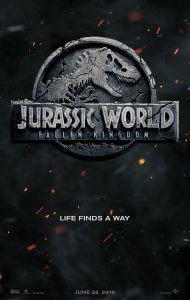 Universal Pictures unveiled the title for its upcoming film Jurassic World sequel via a new poster. Helmed by Spanish film director J. A. Bayona, Jurassic World 2 is now officially "Jurassic World: Fallen Kingdom".
"Fallen Kingdom" is fifth installment in the highly successful Jurassic Park film series. Jurassic World currently remains the 4th highest grossing film worldwide.
J. A. Bayona previously directed last year's fantasy drama A Monster Calls. Chris Pratt will be reprising his park trainer Owen Grady, while Bryce Dallas Howard and B. D. Wong are also set to return.
Interestingly, Jeff Goldblum is also back as Dr. Ian Malcolm, a character in the original 1993 Steven Spielberg classic that started it all, "Jurassic Park" and the 1997 sequel "The Lost World: Jurassic Park". He also had a book cameo in Jurassic World. Along with B.D.Wong's Dr. Henry Wu, Malcolm also appeared in Michael Crichton's Jurassic Park novel from which Spielberg's first installment was based from.
The tagline on the new poster itself is throwback: fans might recall that "life life a way" is one of Malcolm's cautionary lines from Jurassic Park.
According to Jurassic World 2 Movie's website, a trailer might debut at San Diego Comic-Con next month. So it looks like Universal is already ramping up the hype on this highly anticipated sequel.
'Jurassic World: Fallen Kingdom' is scheduled to arrive in theaters on June 22, 2018.