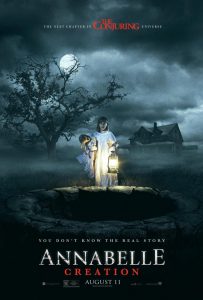 By Creative Media Times
Warner Bros. unveils new poster and trailer for supernatural horror film Annabelle: Creation. Directed by David F. Sandberg, who's directorial debut 'Lights Out' was one of last year's boxoffice surprises, 'Creation' is an origin story of the seemingly innocent yet possessed Annabelle doll.
The story will center on a dollmaker (Anthony LaPaglia) and his wife (Miranda Otto), who's daughter Annabelle died in a tragic accident. Later the couple welcome a nun (Stephanie Sigman) and several girls from an orphanage into their farmhouse, until Annabelle began her reign of terror.
'Creation' is the latest chapter in the rapidly expanding cinematic universe which began with The Conjuring's surprise success back in 2013 and continued with Annabelle a year later, and last year's The Conjuring 2. Another installment, The Nun, which a spin-off to the character featured in The Conjuring 2, is set for release next summer.
Audiences have embraced the franchise so far: from modest budgets, they collectively grossed almost a billion dollars worldwide, making it one of the most successful horror franchise ever, a feat it achieved in a short period of time.
That successful tradition will most likely continue. 'Annabelle: Creation' recently screened at the Los Angeles Film Festival, two months earlier to its release, and early reviews so far have been positive.
Written by Gary Dauberman and to be distributed by Warner Bros., 'Annabelle: Creation' comes out on August 11, 2017.