By Armando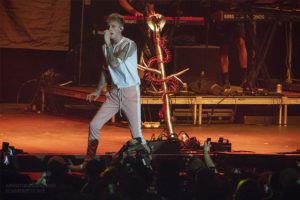 Machine Gunn Kelly took the stage at Milwaukee, performing a lively set on Thursday, July 5 at Miller Lite Oasis.
Kelly is undoubtedly one of the most anticipated performers in this year's Summmerfest, drawing crowds and their energy into the festival grounds before the show even started.
A towering presence even at the massive stage, there is strength and confidence in his delivery, and in every song he performed. With his rapid-fire rap and overall stage persona, the rock elements of his work is palpable.
Kelly, whose real name is Richard Colson Baker, opened the show with "Wild Boy", his lead single from his 2012 label debut EP "Half Naked & Almost Famous" and immediately followed up with "Golden God," a more recent cut from his latest album "Bloom".
The rapper performed Wake + Bake and Mind of a Stone back to back, occasionally smoking towards a snake prop on stage.
This was followed by his chart hit collaboration with Camila Cabello "Bad Things," and although the "Havana" singer was not on stage, the song naturally sent the excited crowd to their feet.
He began to close the night with a "Till I Die" the lead single from his 2015 studio album "General Admission", followed by latest single "27" from his most recent album "Bloom", before ending the night with "Too Good to be True," his collaboration with Danny Avila and The Vamps released earlier this year.
Kelly knows how to take control on every song, one after another, keeping everyone engaged with energetic and commanding presence, and interacting with front row fans, who followed Kelly's every move, and his songs note per note.