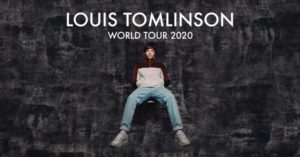 Louis Tomlinson dropped his newest single, "We Made It" viaSyco/Arista Records today. Get it here! Louis premiered the single with a performance at a SiriusXM fan event this morning. This is the third track off his highly anticipated debut solo album, WALLS, which was announced yesterday with a personal video from Louis on his socials. WALLS will be available on January 31st, 2020 but is available for pre-order now.
Louis will also be embarking on his first ever solo world tour in 2020. Louis' 43-date tour kicks off on March 9th in Barcelona, Spain and hits cities all across the world including Paris, Berlin, Amsterdam, London, Dubai, Jakarta, Sydney, Tokyo and Rio De Janeiro, among others before hitting North America. The North American leg of the tour, presented by Live Nation, begins on June 9th in Minneapolis and will hit cities like Chicago, Toronto, Nashville, New York, and Los Angeles.
Tickets are available to the general public starting November 1st at 10am local time. To purchase tickets and for more information about the tour, please visit https://www.louis-tomlinson.com/.
Today, Louis also debuted the music video for "We Made It" in conjunction with the single. The video, which was directed by Charlie Lightening (Paul McCartney and Liam Gallagher), is a continuation from his "Kill My Mind" video released in September. The week leading up to "We Made It," Louis began teasing the new music on his socials. On Sunday, he teased the single's audio, followed by a teaser trailer of the "We Made It" music video on Tuesday. To heighten the anticipation, Louis also shared a digital scavenger hunt yesterday morning for fans to reveal the album art.