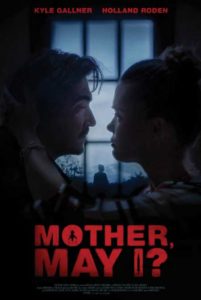 MOTHER, MAY I?, a psychological thriller from writer-director Laurence Vannicelli and featuring stars Kyle Gallner (Smile, Dinner In America) and Holland Roden (Teen Wolf) is set to arrive in theaters and on VOD on July 21st.
The spine-chilling film is the debut feature from writer-director Laurence Vannicelli, and it marks a breakthrough in mind-bending horror. Emmett (Kyle Gallner) and Anya (Holland Roden) unexpectedly inherit his estranged mother's house after her passing. As they sift through her estate, Anya begins acting more and more like Emmett's mother – forcing him to question if she's pushing him to confront his traumatic past or if she's actually been possessed by his mother's spirit. The cast also includes Chris Mulkey (Twin Peaks).
Kyle Gallner currently stars opposite Sosie Bacon in the surprise hit Smile, which spent two weeks atop the box office and is nearing a global tally of $150 million. His recent film credits also include Dinner in America, produced by Ben Stiller, Amy Redford's Roost, which premiered at this year's Toronto International Film Festival, and Scream 5. For television, Gallner starred in the Paramount+ limited series "Interrogation" and the WGN series "Outsiders," opposite David Morse.
Holland Roden also made her mark in series television, appearing in such hits as Cold Case, CSI: Crime Scene Investigation, Lost, Weeds, Mayans M.C. and Teen Wolf. She has the top-billed role in the upcoming Teen Wolf: The Movie. Laurence Vannicelli developed MOTHER, MAY I? with his partner, Daisy Long, a former ballerina, who choreographed the dancing seen in the film's supernatural sequences.
Here's the film's official synopsis:
Emmett wants to clean and flip his recently deceased mother's house: get in, get out, and avoid any trauma still lingering from when she abandoned him as a young child. Anya, his fiancé, see's this as an opportunity to finally force Emmett to deal with his trauma because she believes it is preventing him from being the partner she needs. So she convinces him to take mushrooms to get him to let go. But something strange happens while they're tripping: she starts behaving like his mother. The next morning he wakes up sober, but she still won't drop the act… Anya loves playing games – is this her taking it too far? Or did his mother's spirit somehow possess her?