By Creative Media Times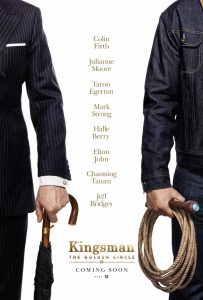 20th Century Fox has released the teaser for Kingsman: The Golden Circle called "The Ultimate Breakdown, a series of action scenes, car chases, and butterflies condensed into 15 seconds of short clips in rapid succession. That is right, 15 seconds, that's all we got. If you think of it though, there's more clips on this than usual teasers, albeit blink and you miss it clips. No word so far on when we will see a full trailer.
The sequel to 2015 film Kingsman: The Secret Service, The Golden Circle features Eggsy (Taron Egerton), Merlin (Mark STrong) and Roxy (Sophie Cookson) heading to the United States to join forces with Kingsman's American counterpart, the Statesmen after their headquarters is destroyed by a criminal mastermind and member of "The Golden Circle".
Earlier today, Empire also released two new images from the film, which follows the first photos of the film from EW last week
Colin Firth, Taron Egerton, Sophie Cookson, and Mark Strong are back in Circle, and joined this time by Halle Berry, Julianne Moore, Sir Elton John, Jeff Bridges, and Channing Tatum. The movie is based on The Secret Service comic book by Mark Millar and Dave Gibbons. Matthew Vaughn returns to direct The Golden Circle from a script he co-wrote Jane Goldman.
Kingsman: The Golden Circle is scheduled to open in theaters September 29.