By Armando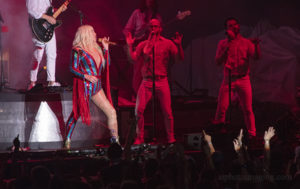 One might wander into a Kesha show unsure of what to expect. But on the 4th of July at Milwaukee's Summerfest, the pop star was on full display, thrilling the packed crowds at Miller Lite Oasis stage with great hits and sensational stage energy.
Though the weather was somewhat unpredictable throughout the day, there was no question of the excitement Kesha brought into the festival as soon as she took the stage, literally sparkling as she come out from a UFO.
Kesha opened the night with a wild and spirited performance of "Woman," her single from her third studio album from last year "Rainbow."
"Every month is Pride Month," Kesha screamed, then sends the crowd into a dance frenzy with her chart topping hit "We R Who We R,". Throughout the night, Kesha chatter with fans, taking in the raucous cheers that never seemed to end throughout the whole show.
The hits continue throughout the night with "Timber", "Die Young" and "Your Love Is My Drug", all of which were top 5 hits that kept the night's adrenaline running.
By the time "Take It Off", the party was in full swing and with some playful encouragement from Kesha, the shirts started flying to the stage. She then closed the main show set with "Blow" during which she fired up the spectacular confetti cannon.
Later, Kesha emerged for an encore of Praying, a moving performance that had the audience singing along. It was a soaring rendition, understandably an emotional one for the singer considering her recent personal struggles.
Kesha ended the fun and energetic show with, Tik Tok, undoubtedly one of her signature hits, also her debut single which topped the charts all around the globe.
It was a fitting closer, a soaring pop anthem that keeps fans' energy and excitement long after the the singer's spectacle has left the stage.