By Armando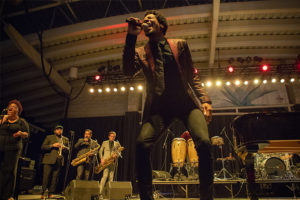 It was another great night at Milwaukee on July 07, with jazz blues musician Jon Batiste gracing the Johnson Controls World Stage as one of the last, and one of the most memorable performances of the night the festival.
Jon Batiste of course is the always gleeful bandleader and musical director on The Late Show with Stephen Colbert.
This time, he joined forces with funk and soul band the Dap-Kings, the 11 member group who also recently performed with Kesha at the festival, as well as Amy Winehouse and Michael Bublé in the past.
Batiste looked and sounded every bit a seasoned performer and is one of the big surprises in the 11 day festival. You can tell he was very much at home on stage. He's an incredible and exciting performer, working the stage and captivating the diverse crowd that was cheering and singing along.