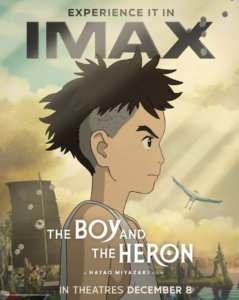 The Japanese animated fantasy film from acclaimed animator, filmmaker, and manga artist Hayao Miyazaki is set for release in IMAX.
The one-week only release on IMAX® on December 8 will have an exclusive early previews on December 4.
"The Boy And The Heron" made its international premiere as Opening Night Gala of the 48th Toronto International Film Festival. Tickets to all five TIFF screenings sold out in record time, and the film received glowing reviews and placed top three for the TIFF People's Choice Awards. The film made its U.S. premiere at the New York Film Festival, its European Premiere as the Opening Night of San Sebastian International Film Festival, and made its UK premiere at the BFI London Film Festival. The film was presented in IMAX at LA's Chinese Theater as Opening Night of the Animation is Film Festival.
The Japanese cast includes Soma Santoki, Masaki Suda, Ko Shibasaki, AIMYON, Yoshino Kimura, Takuya Kimura, Keiko Takeshita, Jun Fubuki, Sawako Agawa, Karen Takizawa, Shinobu Otake, Jun Kunimura, Kaoru Kobayashi, Shohei Hino. While the English cast includes Christian Bale, Dave Bautista, Gemma Chan, Willem Dafoe, Karen Fukuhara, Mark Hamill, Robert Pattinson, Florence Pugh, Luca Padovan, Mamoudou Athie, Tony Revolori, Dan Stevens.
Here's the film's official synopsis:
Hayao Miyazaki's first feature film in 10 years, The Boy and the Heron is a hand-drawn, original story written and directed by the Academy Award®-winning director. Produced by Studio Ghibli co-founder Toshio Suzuki, the film features a musical score from Miyazaki's long-time collaborator Joe Hisaishi. The theme song for the film "Spinning Globe" was penned and performed by global J-pop superstar Kenshi Yonezu.