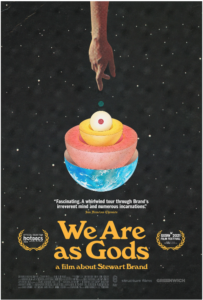 Greenwich Entertainment is set to release the documentary about American visionary Stewart Brand
"We Are As Gods" offers a deep dive into the many sides of Stewart Brand— the Zelig-like creator of The Whole Earth Catalog, an influential member of Ken Kesey's "The Merry Pranksters," and an early activist in the modern environmental movement. Brand, in his guise as cyber-utopian, coined the phrase "personal computer" and influenced many in Silicon Valley, including Steve Jobs, who have gone on to shape our modern world. Now in his 80s, Brand looks to leave a legacy for the long-term future with his efforts to rewild ecosystems by resurrecting extinct species. But his former allies believe he's gone too far.
"We are as gods and might as well get good at it," Stewart Brand wrote in 1968. A Zelig-like pioneer of LSD, modern environmentalism, cyberspace and futurism now urges people to use their god-like powers to fight extinction by reviving lost species, but his former allies in the environmental movement vow to stand in his way.
Also of note, Brand is the subject of a recent Penguin Press biography by John Markoff.
Directed by David Alvarado and Jason Sussberg (Bill Nye: Science Guy), the film will be released on demand starting Tuesday, September 6, 2022.