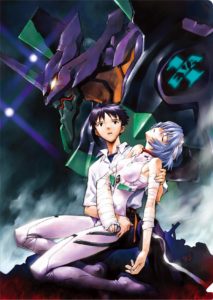 GKIDS, the acclaimed producer and distributor of animation for adult and family audiences, announced it will issue the critically-acclaimed NEON GENESIS EVANGELION in an expansive, limited-run Ultimate Edition. The Ultimate Edition set includes the original twenty-six episode television series, NEON GENESIS EVANGELION, as well as the films EVANGELION:DEATH (TRUE)2 and THE END OF EVANGELION, marking the first time NEON GENESIS EVANGELION will be available on Blu-ray in North America. Strictly limited to 5,000 copies for North America, the NEON GENESIS EVANGELION: Ultimate Edition will be sold exclusively through the GKIDS Store (with a limit of 1 per customer), and is now available for pre-order at GKIDS.com/EVANGELION
The NEON GENESIS EVANGELION: Ultimate Edition was created by fans as the definitive celebration of one of the most important and influential anime series of all time, featuring exclusive artwork, merch, a 156-page book, and over 7 hours of bonus features. Spread over 11 discs, this set contains the Official Dub and Subtitled versions, and bonus Classic Dub and Subtitled versions.
For fans in the United Kingdom, the NEON GENESIS EVANGELION Ultimate edition is distributed by Anime Ltd. For more information, please visit evangelion.alltheanime.com. Fans, collectors, and new audiences alike can look forward to August 30th, 2021 for information on forthcoming editions.
GKIDS previously announced that it had acquired North American theatrical, home video, and EST rights to the critically-acclaimed masterwork. Created by Hideaki ANNO, the NEON GENESIS EVANGELION television series is considered one of the most influential animated series of all time. Since its 1995 premiere in Japan, the story of teenager Shinji Ikari has remained one of the most iconic titles in animation history, and a global pop culture phenomenon.