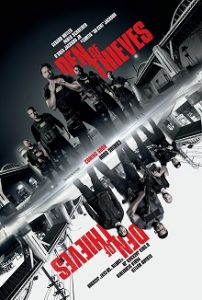 By Creative Media Times
Butler plays a tough cop in the recently released heist action thriller film from director Christian Gudegast.
The film sees Butler as on-edge Los Angeles cop Nick Flanagan, going after a group of dangerous outlaws planning a major heist on the Federal Reserve Bank in downtown Los Angeles. "You're not the bad guys, we are," Butler confessed in trailer.
The shoot-em-up film does seem like a modern-day version of the 1995 Michael Mann classic "Heat," as advertised on the movie's facebook page, and that hopefully will be a good thing. Here we see Butler mirroring Al Pacino's Lt. Vincent Hanna as he pursues the bank robbery crew. Whether someone is actually going to step into De Niro's role, we will soon find out.
Butler and Gudegast previously collaborated in "London Has Fallen" (2016) where Butler starred as a secret service agent while Gudegast wrote the screenplay. "Den of Thieves" marks Gudegast's directorial debut.
From a script by Gudegast and Paul Scheuring, the film also stars O'Shea Jackson Jr., Curtis "50 Cent" Jackson, Maurice Compte, Sonya Balmores, Pablo Schreiber, Evan Jones, Dawn Olivieri, Mo McRae, and UFC Featherweight Champion Max Holloway.
Here's the film's synopsis:
DEN OF THIEVES is a gritty Los Angeles crime saga which follows the intersecting and often personally connected lives of an elite unit of the LA County Sheriff's Dept. and the state's most successful bank robbery crew as the outlaws plan a seemingly impossible heist on the Federal Reserve Bank of downtown Los Angeles.
Den of Thieves will be released on Jan. 19, 2018.