The film will have a theatrical release starting October 12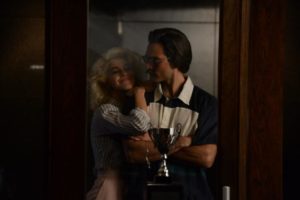 Freestyle Releasing has acquired U.S. theatrical distribution rights to Bee Holder Productions upcoming unique fitness drama Bigger, directed by George Gallo and starring Tyler Hoechlin, Julianne Hough, Aneurin Barnard, Victoria Justice, and Robert Forster.
Gallo, who just wrapped The Poison Rose, helmed the film which is produced by Steve Lee Jones (Bee Holder Productions) and Scott LaStaiti, and executive produced by Camila Castro and Eric Weider. The film was written by Andy Weiss (White Boy Rick), George Gallo, Brad Furman and Ellen Furman.
Brothers Joe & Ben Weider were the architects of muscle. Against all odds, they launched an empire. Along the way they discovered Arnold Schwarzenegger, inspired female empowerment, championed diversity, and started a movement that changed the world.
"There is far more to this film that one would ever expect, it's a rich and layered tale that is a true triumph of the spirit," said Jones. Gallo added, "it's the kind of film that shows that one can achieve anything if you believe in yourself enough and never take NO for an answer."

Bigger will have its US premiere on September 13 in Las Vegas to coincide with the Mr. Olympia competition that was created by the Weider brothers, and will be in theaters on October 12.
Freestyle Releasing is a full-service theatrical motion picture distribution company purchased in 2015 by Entertainment Studios, that specializes in representing independent companies, major studios, and mini-majors for the purpose of exhibiting their films in a first-class theatrical release. The founder and President of Freestyle Releasing, Mark Borde, is a high regarded and experienced motion picture veteran. The digital distribution unit of Freestyle Releasing, Freestyle Digital Media, is a premiere multi-platform distributor with direct partnerships across all major cable, digital and streaming platforms. Capitalizing on a robust infrastructure, proven track record and a veteran sales team, Freestyle Digital Media is a true home for independent films. For more information, visit: www.freestyledigitalmedia.tv.