By Creative Media Times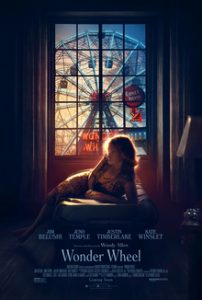 The director is back in another potential awards magnet "Wonder Wheel", this time with Kate Winslet and Justin Timberlake. Amazon Studios has released the first trailer for the film, ahead of it's closing night premiere at 55th New York Film Festival on October 14, 2017. Jim Belushi, Juno Temple co-star in the drama film set in late 1950s against the backdrop of 1950s Coney Island.
Allen also wrote the original script while Oscar-winning cinematographer Vittorio Storaro (Apocalypse Now) shot the film. Vittorio recently collaborated with Allen on 2016's Cafe Society.
The trailer looks picturesque with beautiful shots of fluorishing Coney Island beaches and amusement park. It has Allen's touch of old Hollywood vibe as it follows waitress Ginny (Wislet), her temperamental carousel operator husband Humpty (Belushi), a young aspring playwrite/lifeguard Mickey (Timberlake) and his estranged daughter Carolina (Temple) who is on the run from the mob.
The film will go into limited release December 1, marking the online retail giant's first solo venture into self-distribution, seemingly moving closer into establishing itself a major film studio.
Here's the film's official synopsis:
WONDER WHEEL tells the story of four characters whose lives intertwine amid the hustle and bustle of the Coney Island amusement park in the 1950s: Ginny (Kate Winslet), an emotionally volatile former actress now working as a waitress in a clam house; Humpty (Jim Belushi), Ginny's rough-hewn carousel operator husband; Mickey (Justin Timberlake), a handsome young lifeguard who dreams of becoming a playwright; and Carolina (Juno Temple), Humpty's long-estranged daughter, who is now hiding out from gangsters at her father's apartment. Cinematographer Vittorio Storaro captures a tale of passion, violence, and betrayal that plays out against the picturesque tableau of 1950s Coney Island.