By Armando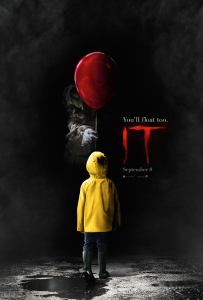 In the terrifying first trailer for the updated version of Stephen King's classic 'It', not everybody loves a clown (especially one that carries around a red balloon). In fact it may give you coulrophobia. Along with the first trailer, New Line Cinema also released a chilling new poster (right) for its upcoming film.
In the trailer, a boy chases his paper boat as it floats through the ditch and fell into the drainage. As he reaches down to find it, the boy saw the creepy head of a clown. In comes a group of curious kids known as The Loser Club, who finds out more about the mysterious disappearance of children in their town, and later come face to face with the evil clown.
Based on Stephen King's 1986 novel of the same name, "It" was previously adapted in 1990 into a tv miniseries with Tim Curry as Pennywise. In June 2012, Hollywood Reporter announced that the novel, similar to the two-part tv series, will be cleaved into two films.
There's only a few glimpses of Pennywise the Clown in this first teaser, which only adds to the mystery. But as creepy as the trailer is, it also have the same vibe of "Stand By Me", the 1986 classic also based on a Stephen King novella.
It would be interesting to see if elements from both novels appear in the movie and how they will come to merge. It is an effective trailer nonetheless, evoking many elements of suburban dreads pertaining to child abductions and children's fear of clowns, as well the terrors and jump scares of the horror genre.
The cast includes Jaeden Lieberher ("Midnight Special" and one of our most anticipated movies of the year "The Book of Henry"), Finn Wolfhard ("Stranger Things"), Jeremy Ray Taylor, Wyatt Oleff, Sophia Lillis, Chosen Jacobs, Jack Dylan Grazer and Nicholas Hamilton. Bill Skarsgård plays the Pennywise.
"It" is due to be released Sept. 8 by Warner Bros. Pictures and is directed by Argentinian filmmaker Andrés Muschietti.