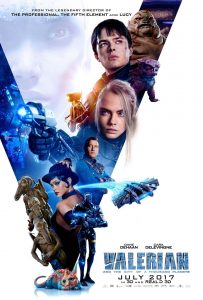 By Creative Media Times
Luc Besson's CGI spectacle this summer "Valerian and the City of a Thousand Planets" has its final trailer released by STXfilms. This is somewhat a darker and more grim version of what we have seen of the movie so far. It is nonetheless dazzling display of sci-fi adventure that we come to expect from the French auteur.
The previous two trailers were more focused on fun camp aspects of the movie. As different in tone this new trailer is from previous trailers, it remains to be seen whether this new pitch of the film encompass the actual film's look and feel.
'Valerian' is a futuristic adventure set in the 28th century, and involves Valerian and Laureline as a pair of special operative agents for the government keeping the order of human territories in space.
Scheduled for release in theaters July 21, 2017, the Luc Besson film stars Dane DeHaan in the title role of 'Valerian' and Cara Delevingne as "Laureline" and includes an eclectic group of actors such as Dane DeHaan, Clive Owen, Ethan Hawke, Rihanna, John Goodman, Rutger Hauer, Herbie Hancock and Kris Wu.
Check out the amazing trailer below: