By Creative Media Times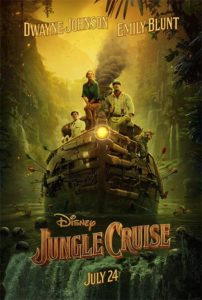 Disney has just dropped the first trailer for its upcoming adventure film, Jungle Cruise, and it looks like another fun summer blockbuster winner.
Loosely based on the Disney theme park attraction of the same name, the film stars Emily Blunt stars as explorer-scientist Lily and Dwayne "The Rock" Johnson as a riverboat tour guide captain Frank.
There's plenty of action and charm packed within 2 minutes of the trailer, which gives off mixed vibes of adventures such as Pirates of the Caribbean and The Mummy, with a little bit of Romancing the Stone and The African Queen.
Directed by Spanish filmmaker Jaume Collet-Serra (Orphan, House of Wax, The Commuter), the film also stars Edgar Ramirez, Jack Whitehall, Jesse Plemons, and Paul Giamatti.
Jungle Cruise is set for release in theaters July 24, 2020.