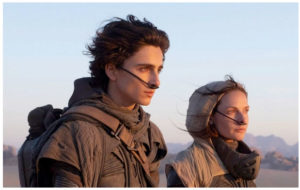 "I saw some things cut together and it just looks amazing," Oscar Issac says of the movie.
Denis Villeneuve is preparing to shoot additional footage on "Dune" this August in Europe, Deadline confirms. Per the report: "The team is planning to head back to Budapest, Hungary, where the movie shot in 2019 at Origo Film Studios. Filming has also taken part in Jordan and Norway, and initially wrapped back in July last year." Cast member Oscar Isaac confirmed the new shooting plan in an interview with Deadline.
"We're going to do some additional shooting in mid August…they're saying in Budapest in Hungary," Isaac said. "I saw some things cut together and it just looks amazing. Denis [Villeneuve] is a real artist and it will be exciting to see it come together. It's kind of wild that we're doing some additional shooting a few months before it's supposed to come out, but that happened with Star Wars as well."
According to Deadline, the additional filming on "Dune" is not out of the ordinary for a Hollywood tentpole of this scale and the extra shooting "will not cause a delay and it will still release" on schedule. Warner Bros. and Legendary have "Dune" set for a nationwide opening on December 18.