By Creative Media Times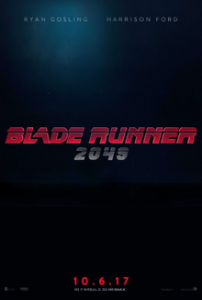 Warner Bros. has released the first official trailer for is hotly anticipated "Blade Runner 2049". The neo-noir sci-fi stars Ryan Gosling and Harrison Ford, and directed by Denis Villeneuve who recently directed 2016's "Arrival". This being a sequel to 1982's Ridley Scott classic "Blade Runner", Harrison Ford is reprising his Rick Deckard character who disappeared 30 years ago.
The intense two minutes trailer debuted Monday at a live event with the two stars and the director. "The first film made me question what it meant to be a human being," Gosling said of the original film.
Though the trailer did not reveal much of the film's plot beyond what the studio has already released so far, it is effective nonetheless, evoking many of the original's grit and beautiful cinematography that is part of it's appeal.
The film also stars Jared Leto, Sylvia Hoeks, Carla Juri, Barkhad Abdi, and Dave Bautista, and is due for release on October 6.