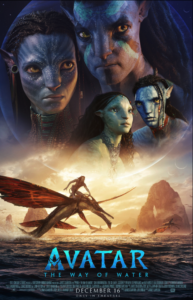 James Cameron and team has released a new trailer for the director's latest upcoming epic film, "Avatar: The Way of Water".
The spectacular trailer showcases some of the technology the director has in store. In a recent GQ interview, he explains the algorithms, new cameras, and many other techs that came into use in making the film.
"It's not animation in a Pixar sense where they're just making stuff up," Cameron said. "The actors already defined what they did, but it has to be translated from the captured data to the 3D-CG character. And there's all sorts of AI steps in there."
Directed by James Cameron and produced by Cameron and Jon Landau, the movie stars Sam Worthington, Zoe Saldaña, Sigourney Weaver, Kate Winslet, and Stephen Lang.
Get another peek at the upcoming sequel's story in this new trailer. The film is set more than a decade after the events of the first film, Avatar.
"Avatar: The Way of Water is set to debut in theaters on December 16, 2022.