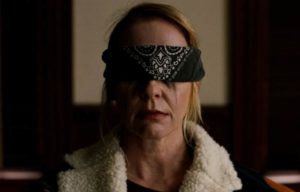 Hungry Dog Blues follows the story of a small-town crime thriller set in rural Missouri, about two estranged half-brothers who kidnap the lead witness testifying against their incarcerated father in order to prove their father's innocence.
Charlie (Jason Abrams, "Luke Cage") and Terrence Withers, (CJ Wilson, "The Blacklist," The Trial of the Chicago 7), plan to expose the lead witness, Ronnie Amy Hargreaves ("13 Reasons Why," "Homeland"), testifying against their father for embezzlement as the true guilty party. They enlist the help of Tina (Irina Gorovaia, The Royal Tenenbaums, The Butterfly Effect), Ronnie's estranged daughter, to lure Ronnie out of hiding only to find that Ronnie has a plan of her own to use the brothers against the individual who is actually pulling the strings.
Written and directed by Jason Abrams, the gritty neo-western crime thriller is set for digital debut on DVD and VOD platforms on April 25, 2023.