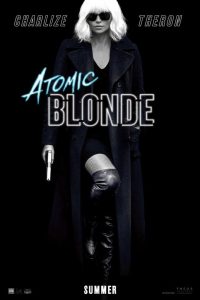 By AI Creative Media
Yes, the coolest music video this week comes in the form of a movie trailer, that of Charlize Theron's new action thriller Atomic Blonde. From that cool mash-up of Kanye's "Black Skinhead" and Depeche Mode's "Personal Jesus", to a remix of the Eurythmics's "Sweet Dreams", and some help from New Order, the trailer's music captures the intensity of its impressive fight scenes.
After playing Imperator Furiosa in the George Miller masterpiece Mad Max: Fury Road, we now see Theron back for more butt-kicking action, this time on a spy mission while looking sassy in a pair of stilettos. Following Mad Max and this weekend's The Fate of the Furious, it seems that Theron is in a good place establishing herself as an action star.
Based on Antony Johnston's 2012 graphic novel The Coldest City, Atomic Blonde is an action spy thriller set in Berlin's world of espionage underworld, centering on the eve of the collapse of Berlin Wall. The story follows Theron's Lorraine Broughton on a mission "to deliver a priceless dossier out of the destabilized city, she partners with embedded station chief David Percival (James McAvoy) to navigate her way through the deadliest game of spies".
Directed by David Leitch (John Wick), and written by Kurt Johnstad (300), the movie also star James McAvoy, John Goodman, Toby Jones and Sofia Boutella. The film made a big splash at South by Southwest back in March and will open nationwide on July 28.